IMP AEROSPACE SUPPORTS COLLINS AEROSPACE ENHANCED VISION SYSTEM TESTING
8 NOV 2021 – Halifax, NS – IMP Aerospace (IMP) is pleased to recognize the completion of successful flight testing of the Collins Aerospace Enhanced Vision System on a US Air Force C-130J aircraft. IMP was engaged by Collins Aerospace to conduct the installation design and manufacturing to modify the nose radome for the aircraft and to mount, install and test the new cockpit Heads-Up Display (HUD) and Enhanced Vision Sensor (EVS) for the C-130J.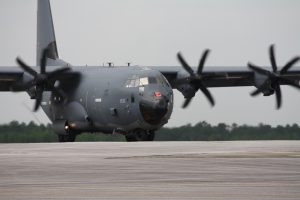 Collins' EVS-3600 uses multiple wave-length cameras to "see-through" poor visibility conditions better than the human eye. The heads-up displays images allowing pilots to better identify the runway environment in all weather conditions including fog, haze, snow, smoke, dust, blowing sand and low illumination nighttime operations. The benefits are dramatic. This technology is particularly beneficial for C-130 aircraft given its need in remote areas, its widespread use during natural disasters, such as wildfires, as well as humanitarian relief efforts across the globe and search and rescue efforts.
"The feedback we received from the crew following the test flight confirms what we've known for quite some time — this technology can help save lives by improving threat detection while increasing safety margins and mission success rates for our militaries," said Dave Schreck, vice president and general manager for Military Avionics and Helicopters at Collins Aerospace.
"The IMP team was a critical contributor to the overall flight demonstrations," said Ron Morey, Director, Value Stream Management Fixed Wing Solutions at Collins Aerospace. Morey also complimented IMP on their flexibility in addressing unexpected scope and installation issues and noted that Collins "could not have achieved this strategic opportunity with this end customer without IMP's involvement."
Mike Michaud, IMP Aerospace's Executive Vice President said "IMP Aerospace is excited to be involved in cutting this new and important ground with Collins Aerospace providing this capability to the C-130J community," and acknowledged the "steadfast support and expertise" shared by the Engineering team at Cascade Aerospace, a sister operating unit within IMP Aerospace & Defence.
About IMP Aerospace & Defence
IMP Aerospace & Defence is a trusted partner to Canada and to customers around the world; and is one of Canada's largest and longest standing aerospace and defence organizations.  With over 2,400 staff at operations across Canada, IMP Aerospace & Defence is known worldwide for delivering a wide breadth of innovative and tailored support solutions to all branches of the military as well as government and commercial operators in the space, air, land and sea sectors.
Media Contact:
Kim Tamminga
IMP Aerospace & Defence
Direct: +604-557- 2646
###